For those who appreciate the arts, history, science, and cultural importance, the global Coronavirus pandemic may have you left feeling rather disengaged. The closure of museums and the inability to travel means we are limited to Netflix documentaries, movies and online articles. It's just not the same as walking the hallways of the most wonderful museums in the world. When visiting these amazing places, you can become deeply engaged with an object or story, travel back in time and appreciate other cultures. Museums play a critical role in preserving the past and various cultures. Careful documentation and artefact preservation means a culture can be remembered and recorded regardless of its future or place in the modern world. It ensures that fundamental events in history live on forever. So while there will come a day where museums and galleries will open again, with hand sanitiser stands all around, for the time being, this rich history and art must be appreciated from a distance. 
Not only does the stay at home orders mean that museums have closed temporarily, but travel is not permitted. Many individuals had their holiday plans cancelled and will not be able to experience famous museums around the world for a while. The travel restrictions mean we are limited to gaining cultural knowledge or expanding our understanding of history online. Engaging young adults has been a challenge in this industry for many years. Research shows a significant gap in museum visiting from when individuals leave school, to when they have children of their own. Now with the global pandemic, this is an even greater setback to reach this demographic. Fortunately, the pandemic has a silver lining in this instance. With modern-day methods being introduced, young people may be more inclined to engage with these platforms. Thankfully, through fast-growing technological advancements, there is a way to introduce a little culture and education to the segment while confined at home. While these may not be traditional product displays, it is still an excellent way to appreciate amazing artefacts and historical objects. 
Virtual museums are described as a series of collections that take full advantage of the multimedia capabilities of the internet. Google Arts & Culture teamed up with over 500 museums and galleries to allow everyone the opportunity to participate in a virtual tour and experience through online exhibits. This includes museums such as the British Museum, London, where virtual visitors can tour the Great Court, discover ancient Rosetta Stone, and get a glimpse of Egyptian mummies in airtight cabinets. The museum was first established in 1753 and then later opened to the public in 1759. Its expansion over the following 250 years was mainly due to British colonisation and has resulted in the creation of multiple brand institutions.
Washington D. C's National Gallery of Art, also shown on Google, has an exhibit of American fashion from 1740-1895. They also feature an exhibit on the Dutch painter, Johannes Vermeer. During the temporary closure, you can visit the Gallery virtually through video tours of current exhibitions. This entails an in-depth look at highlights from different collections, online learning opportunities, audio and video recordings, and lectures by curators, artists, and more. You can stay connected from the comfort of your own home with a glass of wine and a cheese board!
In France, Paris' Musée d'Orsay houses dozens of works in art storage from French artists who lived from 1848-1914 and is also fully available online. From paintings to sculptures, furniture, and photography, it houses the largest collection of impressionist and post-impressionist masterpieces. Musée d'Orsay had more than 3.6 million visitors in 2019. Painters by the names of Monet, Van Gogh, Seurat are just to name a few. 
If you are a fan of the Dutch painter, Vincent Van Gogh, then be sure to see his work in Amsterdam virtually. The painter has a very interesting story. He cut off his left ear! The collection of Van Gogh features over 500 drawings, 200 paintings, and over 750 personal letters. The exhibit takes a deeper look into his illness, where he began hallucinating and suffering attacks in which he lost consciousness. His letters are intriguing and full of emotion. The painter sadly committed suicide.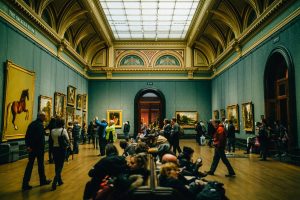 On your next pizza night with the family, take yourselves to Florence, Italy. The Uffizi Gallery showcases the art collection of one of Florence, Italy's most famous families. The de'Medicis were an Italian banking family with political influence that initially began to establish prominence in the 15th century. The building itself was designed by Vasari in 1560. You can now wander its halls from anywhere in the world just with the click of a button. The history in the decor and design is breathtaking. 
Order some Brazilian BBQ and take a virtual tour into The Museu de Arte de São Paulo. This not for profit museum is also Brazil's first modern museum. Artwork placed in clear perspex frames makes it seem as though the artwork is hovering in mid-air. The Museu de Arte de São Paulo distinguished itself from other venues focusing on museology and art education in Brazil.
Unfortunately, not all popular galleries and museums could be included in Google's Arts & Cultures collection. Some, however, offer similar offerings on their website, such as The Louvre. Others offer YouTube footage to recreate a tour like an experience. Virtual museum resources for children are also available for educational purposes. Being stuck at home can often be frustrating. In saying this, younger generations are often drawn to screens and engaging activities, so this can also be seen as an opportunity. Google Arts & Culture also have an app which showcases digitalised collections from numerous famous museums. Whether you want to take a virtual trip to the aquarium, appreciate an interior design style from the 50s, or check out some mummies, this is a great way for your children to be involved in an all-encompassing educational experience.
Hopefully, a sense of normality returns soon. In the mean-time, we can make the most of the advanced technology we have today. As we grow to appreciate art, history and science during isolation, we can reemerge into the world after this pandemic is over with a greater knowledge and understanding about the world around us.